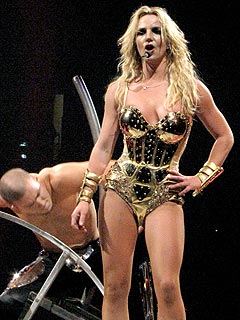 Gwen Stefani :
"...he's (her son Kingston) really into Britney's songs. Really, a lot. He's really into her. Because she actually lives on my street and he would go over there(…) He thinks she's really great. And he flirts with her and stuff."
Lady GaGa :
 "I am not sexy in the way that Britney Spears is sexy - which is a compliment to her because she's deliciously good-looking."
Ashley Roberts (Pussycat Dolls) :
"Britney Spears is truly a Pussycat Doll, and she's an icon and she's someone I have watched and always looked up to, as a triple-threat entertainer. So it's a perfect match - PCD and Britney Spears, in the circus."